Library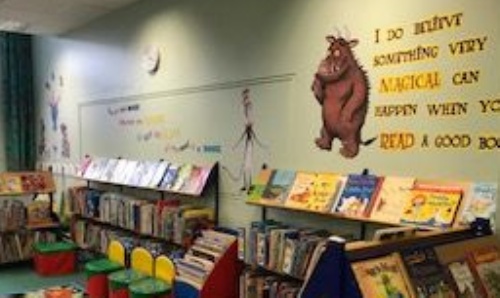 .... at Shirley Infant School
The teachers recently visited Waterstone's to buy lots of new books for our library from funds kindly raised and donated by FOSIS.
We have been working on our school library since the summer term. School council were asked how they would like to improve their library. They sent out questionnaires to their classes and then they looked at all the responses. The ideas for improvements were:
· To paint the library green so it feels like they are reading outside
· To make it feel more open and easier to get to the books
· To have pictures on the walls of all their favourite stories.
The School Council then chose their favourite children's books and made a display in the corridor for the school to vote on the characters we would display. The top votes were the Gruffalo, A Tiger Who Came To Tea, Matilda, Hungry Caterpillar and Cat in a Hat. These are now displayed on our fiction side of the library. On the Non fiction side we have photos of a dinosaur, The Titanic and a Victorian wash day to represent the topics we do our research into for History. We hope you like it as much as we do!